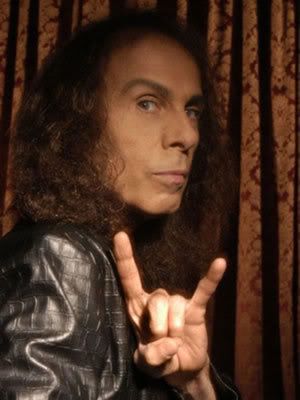 Ronnie James Dio was born Ronald James Padavona on July 10, 1942 in New Hampshire. He is known by many as the one of the best Heavy Metal singers of all time and is also famous for popularizing the "moloich" in Heavy Metal. The "moloich" (shown in the picture above) is now
the
sign for Heavy Metal. Many believe this is the sign of Satan, but that is untrue. This sign is an Italian tradition for blocking the "evil eye" or cursing/hexing another person.
Dio has been the frontman of many bands in the past. Bands such as Elf (1970-1975), Rainbow (1975-1978), Black Sabbath (1979-1982/1991-1993), and his own band Dio (1983-1989/1993-Present) have been famous for their raunchy sounding, powerful vocals. Dio is now touring with Tony Iommi, Geezer Butler, and Vinnie Appice as Heaven and Hell.
Dio is still singing and ruling his world of metal and is more than deserving of the title of The Godfather of Heavy Metal. Thank you Dio for your inspiration and seemingly effortless and consistantly great vocals for all these years.